Rooflight or "Velux" Conversion
The Velux is a type of loft conversion that is preferred by many homeowners because it does not involve the use of dormers, and there is no need to build a roof extension. A Velux conversion simply clues adding rooflights to your loft.
If you live in a house situated in a conservation area it is highly likely that dormers will not be permitted, and therefore a Velux rooflight conversion is the only solution.
Fortunately there are no restrictions on the amount of rooflights you can install.
The brand Velux manufacture rooflights in all shapes and sizes that can be top opening or centre pivoted. They also produce "Terrace" and an attractive style named "Cabrio".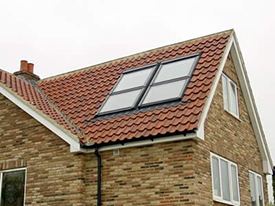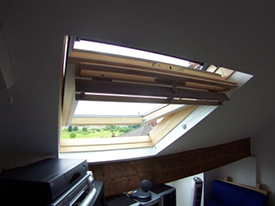 Dormer Loft Conversion
A dormer loft conversion involves building a dormer window, with a dormer that can have a pitched roof, a pitched gable roof, or a flat roof.
A dormer conversion is ideal for those who would like a bigger loft, or homeowners who currently have a hipped roof. A current trend is converting a loft into a master suite for which large rear dormers are ideal, because they enable you to create a large bedroom with a dressing area and en-suite bathroom. Basically, what a dormer does is create additional headspace which is not possible with a Velux loft conversion.
Although flat roofs tend to have a bad reputation, you don't have to be concerned because our flat roof conversions are not entirely flat – they do have some slope, and because we use a custom three layer surface to cover the roof, the work is fully guaranteed for 10 years as leak proof. The advantage of a flat roof dormer loft conversion is it provides substantial additional space. Where possible, we tile hang the dormer so it matches your existing roof.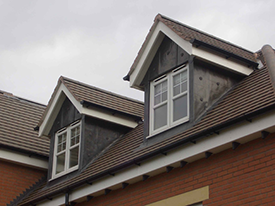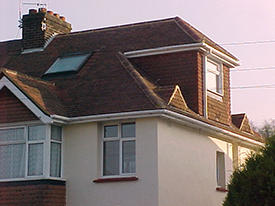 En-Suite Conversions
If you convert your loft to include an en-suite bathroom we recommend installing a shower over a full-sized bath, as this allows the room to remain compact and not take up too much space. Generally speaking, an en-suite bathroom will easily fit into your loft conversion.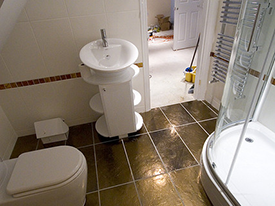 Mansard Loft Conversions
The Mansard Loft conversion is one of the more preferred types of conversion in the Midlands as it is usually popular with the local authorities. A Mansard conversion is placed at the back of the house with a dormer sloped at around 70 degrees. Where possible we will use bricks that keep with the character of your existing building.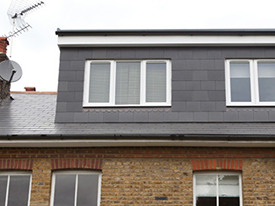 Hip To Gable Conversion
The hip to gable is a type of loft conversion where substantial modifications are made to the property roof. During the construction, the wall is built to the same height as the line of the ridge, and essentially an entire new roof is made to fill in the gap. There are a number of options you can choose for the gable wall such as block work with render, roof tiles, or brickwork. You can also decide to match the new roof with the existing bricks or wall design of the home.
Due to the work involved and the changes made to the property, in many cases planning permission is required for this type of loft conversion.
Whichever type of loft conversion you decide to go for, you can be sure that we are highly experienced loft conversion experts and have already performed conversions for dozens of delighted customers throughout the Midlands.